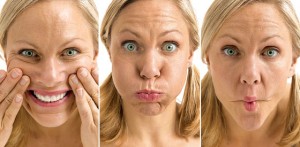 Although not an entirely new exercise routine, Yoga for your face can work wonders in conjunction with your creams, lotions and potions out there to get our skin radiant and supermodel like. Yoga for your face could actually be used to replace some if not all those creams, lotions and potions you currently use.
Yes indeed, a new trend has hit town over the past year or so and has taking everyone by storm. The trend is based on the premise that facial muscles, like any other muscle in our bodies, need a work out to stay in tip-top condition, fans of face yoga tone up their faces in the same way.
Watch this 2-minute video for a glimpse at the delights of face yoga and start practicing your wagging tongues, pulling a pout and scrunching up your nose immediately!  Do this for 30 minutes a day and you too could end up with a wrinkle free funny face!
Video by: Diagonal View
What are your thoughts about face yoga? Do you think it could work for you?
Source: Finerminds
Image: MommyOm