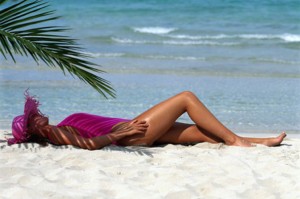 With Summer nearly upon us in Southern Regions, now is an important time to start thinking about your sunscreen protection needs for you and your family.
Here is a checklist of sun protection factors that you should take into consideration when selecting your Summer sunscreen crèmes.
Sunscreen Checklist:
The sunscreen you select should be a minimum of Sun Protection Factor (SPF) 15 or greater.
Your sunscreen should also provide protection from UVA and UVB rays. UVA rays are the Ultra Violet long waves and UVB rays are the Ultra Violet short waves. The UVB waves are the real bad ones as they cause most of the burning and damage to our skin.
Your sunscreen should suit your skin type – dry or oily – depending on your needs.
Summer sunning can be a fantastic source of Vitamin D, so long as you are "Smart" about it. Do not overdo it! If your skin does not burn easily and/or you don't have a family history of skin cancer, then you can slowly increase your exposure to the sun without a sunscreen.  But the use of a moisturizer is a must. If unsure, check with you medical practitioner first.
For those who have a family history of skin cancer, you should always use a sunscreen in Summer, even if you're in the shade, and particularly on cloudy days. Ultra Violet rays are still very strong even on cloudy days.
Is The Degree Of Protection Indicator Related To My Skin Type?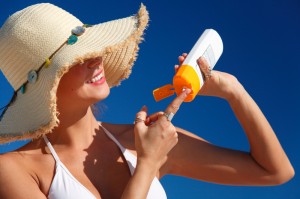 The Sun Protection Factor (SPF) has to do with the complexion. The lighter the colour of your skin, the higher the SPF needs to be for your skin. Fair skin should be SPF30 and above.  While a darker skin complexion, (one which can take more sun) will require a lower level of protection at SPF15 or more.
What Specifications Of Sunscreen Are Best for My Skin?
Sunscreen manufacturers recommend the application of a thick creamy layer across every exposed portion of the skin in order to receive the maximum protection possible from their products.
Sunscreen users similarly believe in the protection of the physical, which is the application of a thick layer of sunscreen cream on the face making it difficult for sunlight penetration.
In addition to the filters that sunscreen contains and prevention from the sun's harmful rays to the skin, the wearing of thick cotton clothing (UV rated) and a protective hat with a broad rim will offer cover as well as to ensure protection during the dangerous periods of the day between 10 am – 3 in the afternoon.
If you adhere to the advice provided in this checklist and apply sunscreen as recommended by the manufacturers you will have given yourself the best possible chance of protection from the Sun's harmful rays this Summer.

Do you use sunscreens in Summer? Do you use SPF15 protection or more? Please leave your comments below to share with other readers. 
Image 1: Coco & Creme
Image 2: Nazninazeez