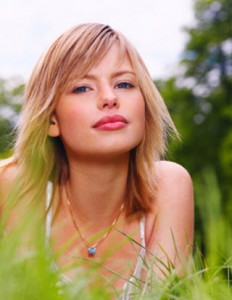 As we discussed in Part 3 of this series, as a woman I am very concerned about my skin particularly my facial skin. We have all heard the saying "You are what you eat". For our beauty this is very true. If you're struggling with skin imperfections, pimple, rashes, blemishes and wrinkles,  then the cause has probably a lot to do with your diet. Eating the wrong foods will damage your skin and make you look much older than your years.
To improve the look, feel and texture of your skin you need to be very conscious of the types of foods you are eating because as we all know there are good foods and some very bad foods in terms of our skincare.
Green Leafy Veggies for a Healthy Glow
As we discussed previously, the good news is that foods that will improve your general health will also improve your healthy appearance. A healthy glow is always a very attractive quality. Eating plenty of green leafy vegetables is always essential for overall good health. The essential ingredients in green leafy vegetables are the vitamins and iron that are essential for healthy skin, nails and hair.
But veggies alone won't cut it! You need a balanced diet with a combination of both complex and simple carbohydrates, proteins, fruits, grains and some good fats will not only bring health to your body but will enhance your outer beauty.
Previously we discussed the skincare benefits of consuming Apple Cider Vinegar, Carrots, Apples, Citrus Fruits, Garlic, Sweet Potatoes and Tomatoes.
Here are some more specific foods that will help your overall health but will particularly help with your outer appearance:
Prevention of Wrinkles with Bananas
Bananas:
Yes, you can go bananas with bananas, because bananas are so good for you in so many ways! The benefits of bananas to our bodies are almost endless.
Bananas are a good source of protein, carbohydrates and fats and essential vitamins and minerals such as: potassium, vitamins A, B, C, calcium, iron, magnesium, manganese and zinc.
Bananas contain natural oils and vitamins that help both your skin and hair.
Benefits of Bananas for Skin Care:
By rubbing the peel of the banana on the skin, especially where there are any irritations like acne or insect bites, can be very beneficial and soothing.
The pulp of the banana is good for your facial skin. Mashing up the fleshy fruit and spreading it on your face will help to make the skin soft and supple.
When you're finished, you can lick your face all over! Maybe not! But it would be yum.
Benefits of Bananas for Hair Care:
Bananas help to prevent the ends of the hair from splitting by protecting the elasticity of the hair.
Bananas also make the hair soft and strong which help prevent breakage.
Bananas keep the hair shiny and help it grow.
Bananas control dandruff and are great for repairing damaged hair while adding volume and luster to the hair.
Next time, in the final of this series, we will discover foods for the prevention of blemishes and infections…
Have you tried Bananas to improve the quality of your skin and hair? If so, did it work for you? Please leave your comments to share with other readers.

Image 1: Beauty For Normal Women
Image 2: Self