A real healthy juice mix is not just a glass chock full of nutrition – they're a burst of flavor, they are easy and fun to make. They're also as close as you can get to a successful science experiment, and quite often, they taste as good as they look. And Smoothies are a great all year round healthy pick me up meal. Some people even claim that making a juice or smoothie has therapeutic qualities! Maybe!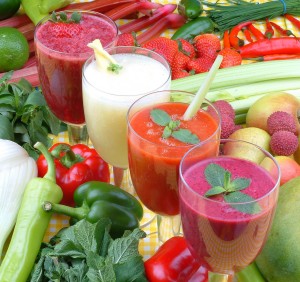 Well, if you agree, then here are our 5 super juicy recipes we found for you to try for the next 5 days. They're simple to prepare because all you need is a blender and a glass, and the ingredients, of course! Here we go.
1. Avocado Coconut Smoothie
For the avocado lovers we recommend this creamy and tropical brew of avocado, coconut and flax oil to fuel your body with good fat, which is essential for good eyesight, glowing skin, and to pump vitamins around your body. Throw a banana in and you'll increase the yummy factor and will pretty much turn this smoothie into a healthy sweet pudding.
Avocado is a great source of monounsaturated fat and oleic acid, while coconut is good for having medium-chain fatty acids and the antifungal lauric acid.  Flax oil is practically 50% Omega-3 fatty acids, which are great for your joints. These nutritional benefits often go missing in many diets due to their misunderstood "fat" relation, but on the contrary – are important for a healthy body!
The Recipe: 1 can organic coconut milk; 3/4 cup pineapple juice (avoid ones with added sugar); 3 tablespoons freshly-squeezed lime or lemon juice; 1 tablespoon flax seed oil; 1/4 teaspoon vanilla extract; 1 large avocado; 1 large banana; and 3 tablespoons melted extra-virgin coconut oil.
How To: Blend the coconut milk, pineapple juice, lime juice, flax seed oil, vanilla extract, avocado and banana on high until everything's fused into a thick and creamy liquid. Then blend in the melted coconut oil through the opening in the lid whilst on the lowest setting. This recipe makes 4 servings and is great for a morning tea-break or an afternoon pick-me up!
2. Banana Almond Flax Smoothie
Here's the reason why so many beauty products contain almonds or bananas. Together they make a glass of plant-based proteins, potassium, fiber and calcium to feed your skin. This recipe also adds flaxseed oil to the blend, which has anti-inflammatory benefits and is great for irritated skin.
The Recipe: 1 tablespoon flaxseed oil; 2 tablespoons of raw almond butter; 1 small banana; 1/2 cup organic apple juice; and 1 cup ice cubes
How To: Blend everything up and you are ready to fill up your glass! If you can't find almond butter at your supermarket, here's a quick recipe to make your own.
3. Smooth Me Better Booster
If you're not one for thick, glugy smoothies and just want something with a more juice-like texture, then this simple and light recipe is still enough to provide you with ample antioxidants, anti-aging, antiseptic agents and the goodness of vitamin C to jumpstart your morning or refresh you later in the day.
The Recipe: 1 apple, 1 orange and 1 carrot.
How To: You would usually need a juicer for the fruit listed, but you can also blend each fruit separately and use a strainer to separate the juice from the flesh. Unless you like your juice to be thicker in texture

If your blender comes with a detachable strainer or sieve, you could also blend the fruit once without it, pour out the smoothie, then blend it again with the strainer or sieve attached, which will collect the juice in its now smooth and gentle texture. Add some water to this blend to thin it a little – adds to the smoothness and is more economical if you are making for plus one.
4. Carrot & Papaya with Hazelnut & Pistachios
Cookbook author Martha Rose Shulman shared this recipe in the New York Times, pairing up carrot the anti-aging and antiseptic skin cleanser with papaya – the fiber, folate and vitamin A, C and E generator. This flavorful concoction is a great starter for your system in the morning, or as a treat on a Saturday afternoon. Topped up with the fiber, protein, good fat and nutrients of hazelnuts and pistachios.  Can you say "superb!" in a thick French accent?
The Recipe: 6 hazelnuts; 1 cup or 180 grams of diced ripe papaya; 1 small carrot, peeled and chopped; 2/3 cup freshly squeezed orange juice; 1-tablespoon pistachios; 2 low-fat coconut milk ice cubes (or 3 tablespoons of low-fat coconut milk); 1 tablespoon lime juice; 1-teaspoon honey; and 1 slice ginger, peeled and coarsely chopped
How to: Toast the hazelnuts for 15-20 minutes in a 300-degree oven. Once removed, wrap in a towel and rub the towel against your counter to peel off the hazelnut skins. You may prepare these in advance to save time.
Blend all ingredients at high speed for 1 minute, and then pour into a glass. If you don't want carrot chunks in your drink, you can blend the carrots separately and use a strainer to collect the juice. This recipe yields 1 serving.
5. Mixed Berry & Beetroot Smoothie
This deep purple potion of berries, granola, yogurt and beetroot packs up antioxidants into a tight heavyweight punch to help eradicate the free radical scavengers that are bullying the good cells in your body. This is my all time favorite juice smoothie. The sweetness of the berries is mellowed by the tarter taste of the beetroot.
This is also another one of Martha's creations that she shared, and assures readers that the color alone will make you crave this smoothie. We couldn't agree more. It looks like something they serve at theAvengersMansion.
The Recipe: 1/2 cup freshly squeezed orange juice; 1 cup mixed frozen berries or blueberries; 2 tablespoons granola; 1/3 cup or 50 grams of diced beet raw or roasted; ¼ cup plain low-fat yogurt or low-fat coconut milk; 1 teaspoon honey; 2 – 3 ice cubes; and sliced orange for garnish (optional)
How To: This yields one serving. Blend all ingredients for at least one minute, pour in a glass, garnish with orange if desired and enjoy.
What is your favorite smoothie or power juice? Do you have any recipes of your own or ones you know of that you would like to recommend to us and other readers? Share it with us below!

Source: Finerminds
Image 1: Feedio
Image 2: Scoff