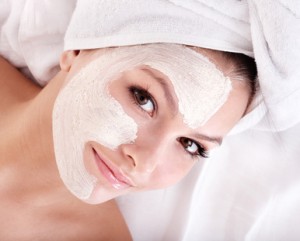 Here we have another wonderfully easy and inexpensive facial treatment for you. I probably don't need to remind you that your skin is the largest organ of your body and that caring for your skin begins with the healthy foods you eat. For a beautiful appearance, your skin needs to be cared for on a regular daily basis. Your skin should be smooth, supple and glowing in appearance if you care for it properly. If you do care for your skin it will be a thing of beauty.
Caring for your skin should not need to take you hours of your time each day nor does it need to cost thousands of dollars each year to maintain the beauty of your skin.
MyFaceMyLife have researched some simple, safe and practical methods for caring for and maintaining your skin using all natural ingredients. These all natural ingredients include healthy fresh food and general household items that you most likely already have on hand right now.
The beauty of food is that good fresh healthy varieties can not only make you healthier on the inside but also make you look healthier on the outside too!
Here are a few of the inexpensive beauty secrets that we have uncovered for keeping your skin, face and eyes looking amazing all day everyday.
Another Homemade Facial Mask
Follow these easy steps to open the pores of your skin and cleanse them to attain a refreshed healthy looking skin:
First, thoroughly cleanse your facial skin.
1.  Always wash your hands before touching your face, removing your make up and washing your face.
2.  Do not use hot water to wash your face. Use warm water to begin with and finish up with a splash of cold water.
3.  Preferably, do not use soap on your face.
4.  Only use soap on your face if you have an oily complexion. You should then massage some soap in circular motions all over your face. Start with your forehead, your nose and then your cheeks. Rinse your face with cold water and thoroughly wash off the soapy residue.
5.  Dry your face with a soft towel. Do not rub your face with the towel but simply tap it gently all over your face.

Now that we have thoroughly cleansed the facial skin we can move onto making the facial masks.
Facial Masks at Home: Preparation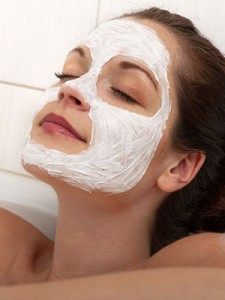 Facial Masks are beneficial for many reasons but the most important, is that it draws out the toxins that are buried deep in the pores of your skin. Daily cleansing of the your skin will only remove the surface layers of oil and toxins, so using a facial mask after the initial cleansing of your face and before toning, will greatly improve the overall health and vitality of your skin.
When applying any facial masks, be sure to avoid the areas around the eyes and the mouth. Use your fingers to gently spread a thin layer of the mask mixture to the skin, and give it time to do its magic. Once mask has done its magic, remove it with fresh clean water and a soft cloth.
Another 30 Cent Botox Alternative Face Lift!
We previously talked about the egg white facial mask well we have yet another inexpensive egg based facial mask for you. Here is yet another way to use your basic eggs as a Botox alternative facial mask.
This method is to simply use the yolk of the egg this time. This alternative method will lift the face and smooth out any wrinkles. Plus with continued use, it will help to prevent your facial skin from getting dry ever again.
Method: Use two egg yolks and a teaspoon of sugar. Whisk the egg yolks until you have a even consistency to the mixture, then slowly whisk in the teaspoon of sugar. When the egg yolks and sugar are completely mixed into a smooth paste the mixture is ready to be applied to your face as the facial mask.
Using a cotton ball spread the mixture all over your face. Be sure to avoid using this mixture too close to the eyes and mouth Leave the mask on your face for approximately 25 minutes.
Again, if you have dark circles under your eyes you may want to use black tea bags or even green, white, or Chamomile tea bags that have been squeezed to remove the excess water. Just place them over your eyes to remove the puffiness and dark circles. This should be performed twice a week for best results.
After the 25 minutes has elapsed remove the mixture by washing your face in some fresh cool water and a clean soft cloth. Then feel how fresh and clean your facial skin is after this all natural treatment.
To ensure you maintain a beautiful and radiant facial skin, it is recommended that you apply this egg yolk facial mask one or twice a week, whichever you believe is required by your skin.
This same treatment also works really well for the neck region as well!
Have you ever tried an egg yolk face mask?  If so, did it work for you? Please leave your comment and experiences for others to read.
Image 1: World of Beauty
Image 2: Woman's Day